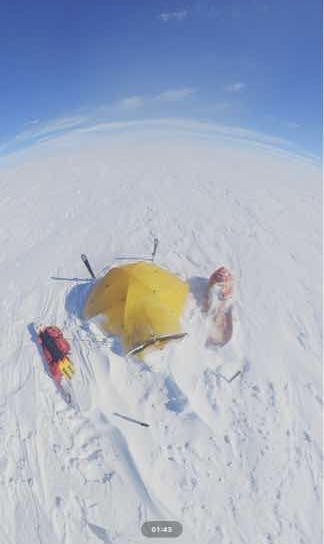 Sometimes it takes an an aerial glimpse of one's environment to put a situation into perspective. Dixie captured this stunning image of yesterday's campsite, a photo that allows us to see not only their cozy tent, but also the somewhat kinder terrain that surrounds them.
Over the last kilometres, the sastrugi have remarkably lessened. This is a welcome development for Seb and Dixie, especially since their bodies have taken many jolts in the early part of this expedition.
As Dixie wrote:
We are hardheaded in our determination, but we cannot say that the list of many problems and setbacks has been minimal.
Still, onward they go toward their northern destination.
As of 14:50 local this afternoon, their position was:
N 67° 47' 02"
W 48° 01' 09"
They continue to operate in warm temperatures of around -3°C which makes the snow underneath their skis slightly sticky.
You may continue to follow their progress via Expeditions Unlimited with its LiveExplorer tracking feature.
For those of you following this expedition in the United States, we wish you an enjoyable Memorial Day Weekend.