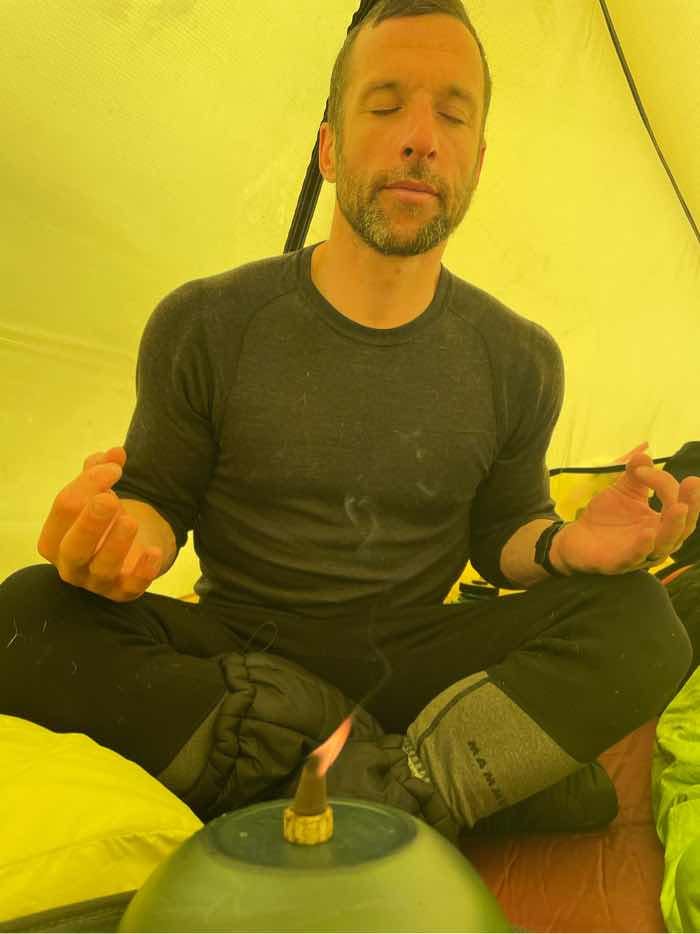 Yesterday's rest day rejuvenated our Greenland team in the physical, mental and spiritual senses. Seb & Dixie took the opportunity to enjoy meditation and yoga, accompanied by some incense to clear the stale air in their small confined tent space.
Dixie wrote:
We used the time in the tent for resting up, our weekend body cleanup, a bit of writing and reading. We ate less since we weren't as active as the previous days and saved a meal. Listening to music was not possible simply because the wind's attacks with regular bursts against the tent were simply too loud. Just as I write these words, the wind seems to abate ever so slightly.
This morning, Dixie and Seb set out early to take advantage of outstanding conditions. They were greeted with clear skies and what appeared to be advantageous terrain. The wind died down just enough to allow them to begin their day's progression with their smallest kites.
As of 08:40 local, their new position was:
N 65.2486°
W -47.3756°
The next waypoint along their trajectory is Dye 2, a former radar station that was a significant American structure in the Distant Early Warning Line during the Cold War Era. Today, there is nearby Camp Raven, run by the US National Science Foundation. The runway there is also used as an Arctic training site for Hercules ski-equipped aircraft.
Besides being a unique distraction in the otherwise barren Greenland Ice Cap, Dye 2 also serves as an advantageous location for Dixie & Seb due to a predicted intense storm system that may blow through the area as early as Monday. We're keeping an eye on the forecast (as we always do). It gives us a sense of relief to know that Seb & Dixie may be able to hunker down amidst the relative shelter of Dye 2 and Camp Raven.
Please follow their continued progress at Expeditions Unlimited with its LiveExplorer Tracking System.