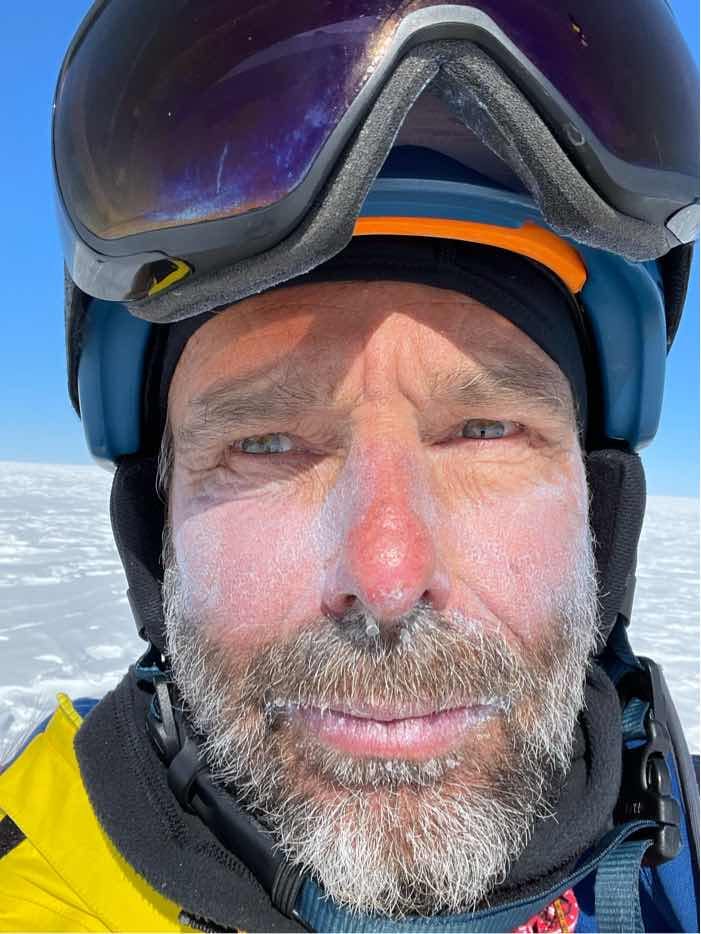 Greenland's unforgivably harsh conditions are beginning to take their toll on our team's exposed skin, although Dixie and Seb are doing their utmost to prevent damage and soothe small wounds at every opportunity. They reapply sunscreen as often as possible, keeping the small tubes in a pocket next to their relatively warm bodies in order to prevent the cream from completely freezing. Lip protection is also a constant.
Their current altitude of 2.264 metres, the blaring sun, and the reflection of the solar rays off of the ice make for a challenging environment for their facial skin. However, Dixie's close-up photo from yesterday is reassuring, especially to see that his lips appear smooth and there are no pronounced signs of frostbite.
Yesterday was another banner day of progress for Seb and Dixie. They booked 93 kilometres of distance forward and have now crossed the 64th degree of latitude which is always a welcome milestone on this particular expedition. They also have entered a kinder terrain with less sastrugi and more gentle snow under their skis.
Their latest camp position:
N 64° 00 44
W 47° 13 05
Dixie wrote:
The wind from the south made for difficult kite handling which required finesse and good timing to change the kite from left to right. The kite needs to be in continuous movement, otherwise it falls out of the sky.
We are camping in a completely different atmosphere as the snow has a different texture and the sastrugi are less high and threatening.
We plan to start early tomorrow.
And, they did just that. Dixie called this morning at 07:00 to say that they were already packed and ready to move, clearly both of them hungry for more success after yesterday's big gain.
Please follow their progress at Expeditions Unlimited via LiveTracker.