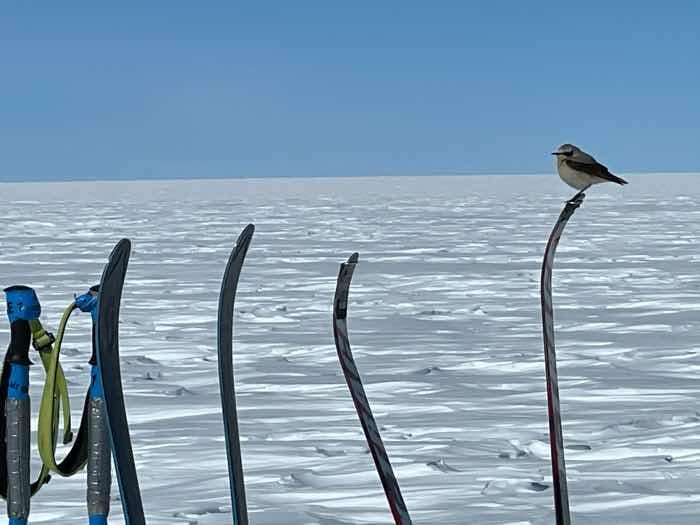 Late last night there was a strange noise outside of Dixie & Seb's tent. When they peered out of their vestibule, they saw two tiny birds who were clearly looking for either good company or more likely an even better meal. The unexpected visitors stayed most of the night, but by this morning they were gone. Dixie admitted that their company, and more importantly their sign of life on the barren ice cap, was genuinely welcome. Our adventurers were dismayed to see them go.
According to Brecht De Meulenaer, our guide who is also a passionate ornithologist, this species is the Northern wheatear, a robust breed that covers mind-boggling distances in harsh conditions. For example, Dixie and Seb are currently at an altitude of 2.075 metres and at 04:00 this morning the temperature was a frigid -21.3°C.
Yesterday, our duo advanced an additional 17,1 kilometres by first kiting for 1 1/2 hours and then manhauling their sleds until 16:00 local time.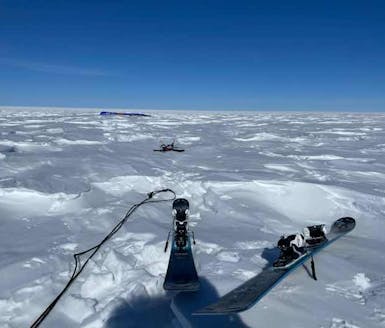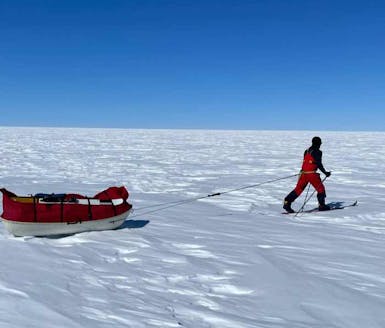 Dixie reported:
We were up at 04:00 yesterday and discovered that the wind was coming at us straight from the north. We waited until 08:00 and then attempted a passage through the endless sastrugi that must be the result of the big storm from two weeks ago. Unfortunately, that means that this sastrugi field could stretch all the way to Kangerlussuaq ...
Really engaged snowkiting and Seb did really well. Many near crashes, overturned sleds, and ski tips stuck in sastrugi.
This is really clumsy progression! I've never seen this scope of sastrugi on the Greenland Ice Cap. Tomorrow is another day :)
After a good night's rest, the team was ready to embark at 08:00 this morning.
Their starting position:
N 62° 20 17
W 46° 59 49
More specific details of their route can be found at Expeditions Unlimited with its LiveTracker system.